A true holiday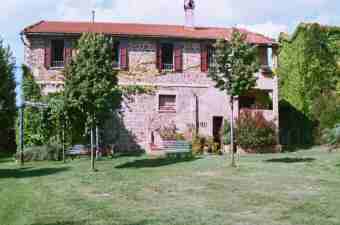 The house and agritourism
If you are interested to spend a period of complete relax just in the center of Umbria, green heart of Italy, why don't you take advantage of the offer of the Azienda Agricola Montescosso? It is located in the countryside of Torgiano, a 15 minutes drive from the city center of Perugia, 20 minutes from Assisi and 30 minutes from Todi. Quietness and tranquillity are guaranteed, but if you are looking for something different, Perugia is a few minutes drive and, even if it's a small city, it offers a multitude of artistic and cultural places, pubs and discos, without forgetting the beauty of the many towns and small villages which are all easily reachable given the central position of the Azienda, which is only 5 minutes away from the E45 superhighway, central transport axis of the whole of Umbria.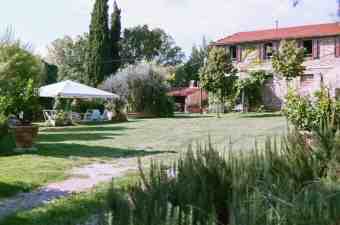 Part of the garden
Completely dipped in the green, the farm house is constituted from a typical independent country house, totally refurbished, with a wide garden (2,500 sq.mt.) and a refreshing swimming pool (12x6 meters), open from the end of May to all of September. The entire structure is just in the center of the Azienda, guaranteeing therefore the maximum of tranquillity. There is accomodation up to 10 peoples, television, telephone, washing machine, dishwasher, an enormous fireplace and a fully equipped kitchen. Upon request, it's possible to arrange cradles. The Azienda comprises over one hundred hectares, subdivided between seeded fields, olive trees and grapevines, and innterleaved by wooded canyons, allowing long and healthy walks, during which it's easy to meet several animal species like pheasants, hares, foxes, badgers, woodpickers, and porcupines.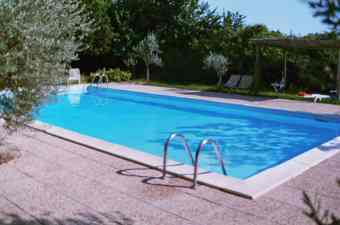 An angle view of the pool
For the more sports inclined, in the immediate vicinities of the Azienda, it is possible to carry out various activities such as horse riding, tennis, soccer, 5 vs. 5 soccer, bowling, golfing, rafting, etc. A 20 minutes drive is enough to enjoy the Trasimeno lake with all of its offerings (sailing included). Or you can enjoy the food and wine specialties of the region, or you can spend some time to the visit of the numerous artistic beauties and the wide museum offerings of the region.
Languages spoken: Italian, English and French.
Do not hesitate to contact us for additional details and availability.
Member of Agriturist.