Virtual visit
The Agritourism "Tenuta di Montescosso" is located near the village of Miralduolo, along the road connecting Torgiano and Ponte S. Giovanni, in a renowned wine-producing area.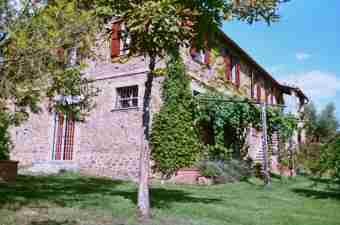 Another view of the house
After about 2 km. of gravel road which go through the most part of the Azienda, you'll reach an iron gate, entrance to the house. The whole large garden (around 2500 sq. mt., with forest and fruit trees) is divided from the seeded fields by a tall enclosure, guaranteeing maximum tranquillity. In the most sunny part of the garden, around 100 meters away from the house, there is the pool (12 x 6 meters), checked and cleaned once a week, featuring fixed and mobile shade zones, and the equipment to enjoy comfortably the sun.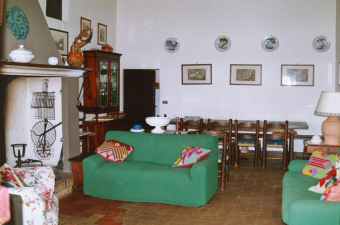 The entrance
Also in the garden, halfaway between the house and the pool, there is a large wooden gazebo with table and chairs allowing to eat outside of the house, even by night. A barbecue is available for grilling your own launches and dinners in the garden. Behind the house there is much space devoted to parking cars without occupying space of the front garden, and there are some games for the youngsters to enjoy.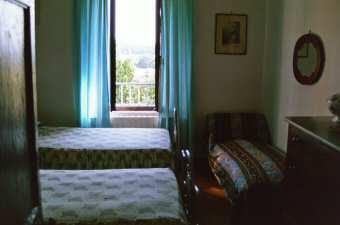 Twin room
Inside the house there's a large living room with an enourmous fireplace, telephone, and a long table for 12 people. Next to the living room is the kitchen, large and completely equipped: fridge, wash-bowls, dishwasher, a large gas stove, traditional and microwave owens, and various electrical household appliances usefull for preparing all kind of dishes. Food shopping is possible in the small markets of the nearby Ponte Rosciano and Torgiano, in a few discount shops or in the large shopping mall "IperCoop" in Collestrada, open during summer also on sundays until 21,00 (9:00 p.m.).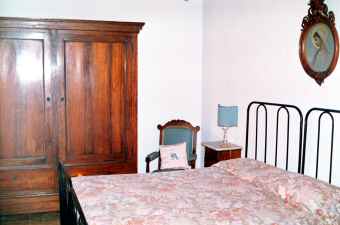 Double room
On the long corridor starting from the living room there are two bathrooms with shower and a small room (where a laundry machine and an ironing board are located), and the sleeping rooms, three twin and two double rooms. It is possible, asking in advance, to install cradles or additional beds for kids inside some of the rooms. Again in the corridor there is another fridge available if needed.